Description
The PUW was produced in the mid/late 70ies. It is a ladies' watch form movement with directly driven center second and uses an odd click spring mechanism.
Video on YouTube
For such a tiny form movement, a directly driven center second hand is very unusual.
Especially, with its mid-fast beating frequency of 21600 A/h, such a thing is rare to find, since normally, these tiny watches don't show seconds at all, or use an indirectly driven center second hand.
Another, very odd, but efficient solution is the slipping click on top of the mainspring barrel. When the barrel is turned back, the spring blocks the blocking wheel and so brings the back-turn to an halt. When winding the movement, the spring slips forward, as far as possible, and so unblocks. Because of this mechanism, there's no clicking sound any more, when you wind the watch.
On the side view, you can see the very compact gear construction. It's not very much watchmaker-friendly :)
Some further details of the PUW 800: Three-leg balance, beared in two RUFA-Antishock bearings, ruby-beared(!) mainspring barrel (technically not neccessiary at all), but non-ruby-beared center minute wheel…
On the dial side, you see the preparations for a date indication mechanism. Normally, you won't see it, since …
… on the date-less version, there's a plate on top, which covers the whole dial side. It hides also the ruby bearing(!) of the minute wheel. No idea about the real purpose of the technically unneccessiary ruby bearing, but maybe the marketing department of the PUW required, that the movement has got 17 jewels.
In the lab
The specimen shown here was running OK, when it came into the lab, and hence was not cleaned and serviced.
Timegrapher result
The results are pretty poor, maybe a full service would have been a good idea. And probably, the poor results on the vertical positions were cause by a strong shock, which you can still see by the crack in the crystal (see below):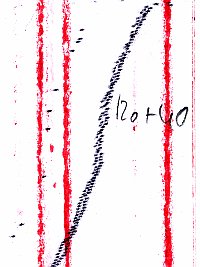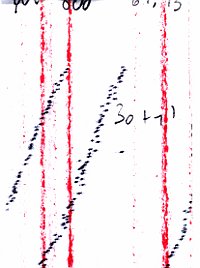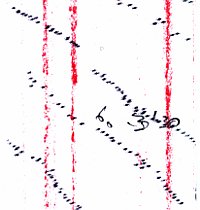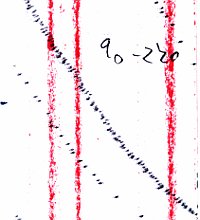 horizontal positions
dial up
+60 s/d
dial down
+55 s/d
vertical positions
crown right (12 up)
+40 s/d
crown up (3 up)
+60 s/d
crown left (6 up)
-3'30 s/d
crown down (9 up)
-2'20 s/d
Timegrapher output
Technical data
Manufacturer:
PUW
Caliber:
800
Number of jewels:
17
Escapement:
Pallet lever
Balance types:
Nickel anular balance

Shock protection(s):
Rufa-Anti-Shock

Balance bearing / direction hairspring:
Clockwise
Moveable stud:
yes
Adjust mechanism:
Hairspring key
Construction:

lever
escape wheel, seconds wheel, third wheel
center minute wheel
mainspring barrel

Construction type:
solid construction
Winding mechanism:
yoke winding system
Setting lever spring:
4 hole(s)
Features:
SCD
Functions:
hour, minute, second
A/h:
21600
Size:
6 3/4 x 8'''
Usage gallery
Links