This thirty year old quartz clock with red glowing nixie tubes is my standard reference clock. It is accurate +- 1 second per month and even better.
Since the tubes only have a limited lifetime, and there are no cheap spare tubes any more, the clock has been sent to retirement, but it still works like a charm!
You can download these templates in german language with a mouse click
26.08.2012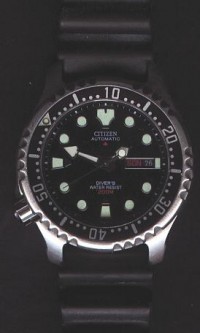 Citizen Promaster Automatic
Citizen Promaster Automatic […] If you want to buy a divers watch today, it's a tough choice: Either you buy one of those high-class watches, which you don't really want to use for …
mehr...