Description
At last 1944, maybe a few yeas before, the Eboase Caliber 23 was launched. It is a rather large pin lever movement with a diameter of 11 1/2 lignes and was made until the early 1960ies.
Video on YouTube
The construction and features of the movment is pretty unusual, especially for a pin lever movement.
All bearings contain rubies; together with the ellipse of the balance (unusual for a pin lever movement), it comes to a total of 15 jewels.
As you can easily see, it's a Roskopf construction, where the directly driven center second wheel resides below the mainspring barrel. The hands are both driven on the dial side by the mainspring barrel with a friction gear, while the center second is driven on the movement side by the mainspring barrel, with two intermediate gears, third and large driving wheel.
This movement has got an own cock for the center second wheel and (and this is really odd!) a cock, which bears both, the escapement wheel and the lever. This construction makes it impossible for a watch maker to test the complete movement without the lever!
The balance, which beats with contemporarily slow 18000 A/h contains lookalike screw (as usual made of massive half-circles) and a ruby ellipse. Those screws have no functional use, but look beautiful!
The specimen shown here is probably one of the latest ones, since there balance wheel is already beared in two KIF Protechock shock protections. It's a bit unusual for pin lever movement, but especially for the heavier fake screw balance with its thin axles, it is useful.
The Ebosa 23 has got a yoke winding system - this is also not common on pin lever movements and shows the high quality of this movement.
Of all pin lever movements of the Uhrenbastler archive, this is one of the best.
In the lab
The specimen described here was more or less working, but needed (and got) a full service.
Timegrapher result
On the timegrapher, the results in horizontal positions were really good, but on the vertical positions it showed very poor results and even got such a low amplitude, that it was no longer possible to measure it. If you look as Position "3 up", you can see, how the change of the position changed not only beating frequency, but also the amplitiude.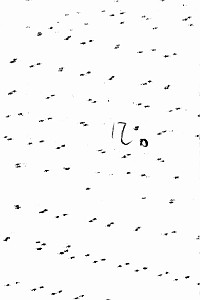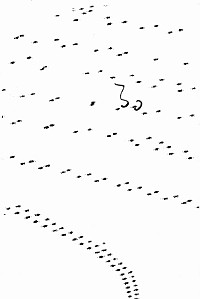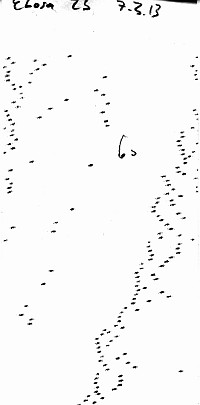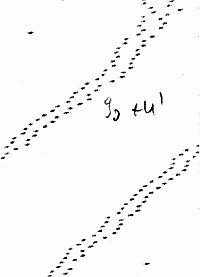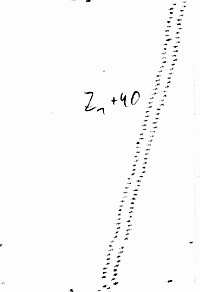 horizontal positions
dial up
+70 s/d
dial down
+40 s/d
vertical positions
crown right (12 up)
- s/d
crown up (3 up)
- s/d
crown left (6 up)
- s/d
crown down (9 up)
+240 s/d
Timegrapher output
Technical data
Manufacturer:
Ebosa
Caliber:
23
Size:
11 1/2''' (measured: 25,5mm)
A/h:
18000
Number of jewels:
15
Escapement:
Pin lever
Balance types:
Nickel screw balance

Shock protection(s):
KIF Protechoc

Balance bearing / direction hairspring:
Clockwise
Moveable stud:
no
Adjust mechanism:
Long regulator arm
Construction:

lever, escape wheel
seconds wheel
third wheel, large driving wheel, mainspring barrel

Construction type:
solid construction
Winding mechanism:
yoke winding system
Setting lever spring:
2 hole(s)
Features:

SCD (direct center seconds)

Production period:
194? -
References:
Flume: 1952 23

Usage gallery
Links