Description
The german manufactury Hermann Becker (HB) of Pforzheim, was especially in the 1950ies famous for their water resistant watch cases, as well as for mens' watch movements like the HB 115.
Among the few ladies' watch movements, which are pretty rare and hard to find, there's the caliber HB 675 described here, which has got a very special shape.
Video on YouTube
It is a true pallet lever movement, which has got a slowly beating (18000 A/h) Glucydur screw balance, which is beared in two Super-Shock-Resist-bearings.
The construction is the same, as on other tiny ladies' watch movements, with small and overlapping gears. Only the mainspring and balance are rather big because of the dimensions of the movement.
The shape of the movement it that, of a round 5 1/4 ligne movement, which is extended on the top and on the botton for more space for a larger balance wheel and mainspring barrel.
The specimen shown here has got the old shape of the setting lever spring.
In the lab
On the specimen shown here, the main spring was broken and replaced (together with the mainspring barrel), and a revision (cleaning and oling) was made. The rest was at least visually OK.
Timegrapher result
In the horizontal positions, the movement performs rather well, but vertically, the rates are really bad.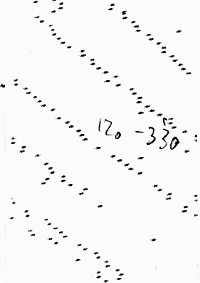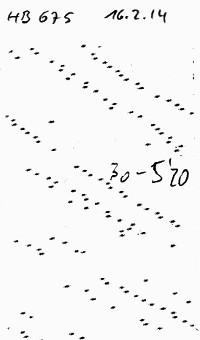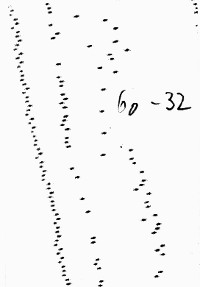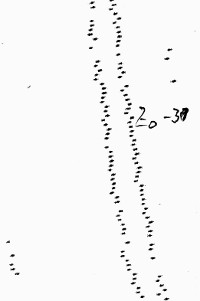 horizontal positions
dial up
-30 s/d
dial down
+15 s/d
vertical positions
crown right (12 up)
-210 s/d
crown up (3 up)
-320 s/d
crown left (6 up)
-32 s/d
crown down (9 up)
-145 s/d
Timegrapher output
Technical data
Manufacturer:
HB
Caliber:
675
Size:
5 1/4 x 8 3/4''' (measured: 15,1 x 19,8mm)
A/h:
18000
Number of jewels:
15
Escapement:
Pallet lever
Balance types:
Glucydur screw balance

Shock protection(s):
Super Shock Resist

Balance bearing / direction hairspring:
Counterclockwise
Moveable stud:
no
Adjust mechanism:
Long regulator arm
Construction:

lever
escape wheel, seconds wheel, third wheel, center minute wheel
mainspring barrel

Construction type:
solid construction
Winding mechanism:
yoke winding system
Setting lever spring:
4 hole(s)
References:
Flume: 1952 33

Mentioning in literature (years):
1951
Usage gallery