Description
The Intex 1055 SCI is an unusual, very simply constructed pallet lever movement, whose constuction bases on the pin lever movement Jäckle 19/50.
Whether the Intex 1055 SCI is identical to the movement, listed here as Intex 2820, is hard to tell. Apart from the shape of the movement three-quarter bridge (which only differs at the winding system) and the number of used (Blind-) jewels, they seem to be identical.
The Intex 1055 is generally seen a pin lever movement in column construction, which uses synthetic rubies on all gears and which has got a pallet lever escapement with a lateral lever.
The ring balance is beared in two Farr shock protection systems; the hairspring is fix connected to the balance cock and can only be regulated directly on the hairspring key.
The center second hand is indirectly driven; the spring, which holds its axle in position contains a bearing jewel.
All gears are below one large three-quarter bridge, only the mainspring barrel can be released seperatly by removing its axle screw.
Due to its large height, the lever has got a very long axle. On pin levers, this is common, but on pallet lever movement, it is hardly seen anywhere.
The shape of the lever is very unusual, too: Normally, you would expect a fork shape, but here, both pallets are on one side of the lever.
On the dial side, you see the rocking bar winding system, on which at least the cover of the click spring looks a bit crude. On the Jäckle 19/50 it was not covered yet.
Really funny is the diamond-shaped plate at "6:30": Here, four cap jewels are integrated. Two of them have got no function at all, are real "blind jewels", and the two remaning ones are not very useful, too, since the other jewels, they cover, are at least one millimeter below, and so, no axle would ever be able to reach them. But at least, they could work as tiny oil reservoirs.
This leads to the impressive sum of 21 jewels, which makes this movement at least numerically superior to the Intex 2820.
Timegrapher result
On the timegrapher, the freshly serviced Intex 1055 SCI show the following graphs, which are very well on the horizontal positions, except the large beat error (seens as "railway track"). The accurancy is approx. +10 secs/day, which is very good for such a simple constructed movement. On the vertical positions however, the graphs are pretty poor, since the deviations goes up to more than three and a half minutes. This could be caused by the radial ran out balance of this specimen. Probably a severe hit was responsible for it. Nevertheless, the lines are still very steady, and this shows, that the escapement is still in perfect shape!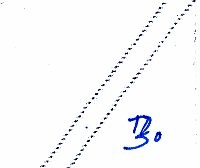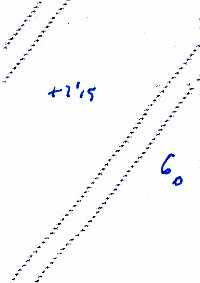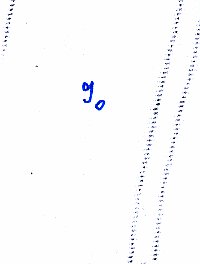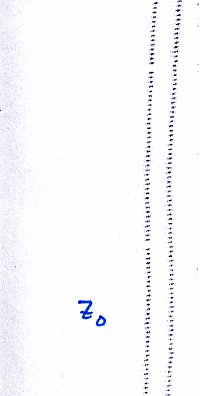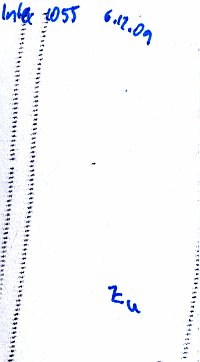 Technical data
Manufacturer:
Intex
Caliber:
1055 SCI
Size:
10 1/2''' (measured: 23,2mm)
A/h:
18000
Number of jewels:
21
Escapement:
Pallet lever
Balance types:
Nickel anular balance

Shock protection(s):
Farr II

Balance bearing / direction hairspring:
Clockwise
Moveable stud:
no
Adjust mechanism:
Hairspring key
Construction:

lever
escape wheel, seconds wheel, third wheel, center minute wheel, mainspring barrel

Winding mechanism:
rocking bar winding system
Setting lever spring:
2 hole(s)
Features:

SCI (indirect center seconds)

References:
Flume: 1958 27

Usage gallery