Description
With more than 130 millions of movements, produced between 1963 and 1990, the caliber family 24 of the UMF is probably one of the most widespread pin lever movement.
During its more than 25 years of production, the movement was modified a few times; the mode 24-42 shown here belongs to the earliest models, and additionally, models with jewel bearings played only an underpart.
Video on YouTube
The die cutted main plate is the same on all models of the caliber 24, which is a pier construction. Its finishing is expectedly crude and its sole "decoration" element is a dot pattern.
On this picture, you can easily spot the production date (24th week 1969), at "7", you can see the spring for the rocking bar winding mechanism, and at "2", there's the click spring.
At "3", there 's the only difference to all other models of the caliber 24: The ruby bearing for the balance, which is screwed in and adjustable in height, just like the metal bearings on the other models.
Although the UMF 24-42 uses two jewel bearings for the balance wheel, it is still a conic escapement with rather high friction wear.
The die-cut lever with its two pins regulates the movement. It's not a precision tool, but a cost effective construction, which made watches available for those, who didn't have money for "better" watches. Its large shape is ideal as opposite to the long escapement fork.
The construction of the movement is simple but standard. At "6", there's the fourth wheel which could drive a decentral second, too. Here on the M24-42, we have got an indirectly driven center second hand. The only problem on this movement it it's large height and the resulting long axes, which make a service a bit difficult for a watchmaker.
The large height is due to the thick mainspring barrel, which ensures enough driving force for the movement. Especially on watches, which are not dust proof and don't have jewel bearings, force is important for a precision and power reserve.
On the dial side, there's apart fro the screwed-in ruby bearing at "9" the usual picture of the caliber family 24. The rocking bar winding mechanism is here still made of metal, as well, as all gears. Seven years later, starting in 1976, at least the rocking bar was made of plastic.
In the laboratory
The specimen presented here came dirty and with a balance, probably harmed by a shock, into the lab and got a complete service there. The heavily swaying balance was put back into position by screwing in the jewel bearing on the dial side, and interestingly, the amplitude of the balance was high again. Nevertheless, the results of the timegrapher are pretty mixed, but in the average, on the wrist, it should run with acceptable accurancy of +- one minute per day. More than that was never promised before, so everything's alright.
Timegrapher result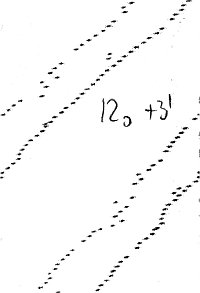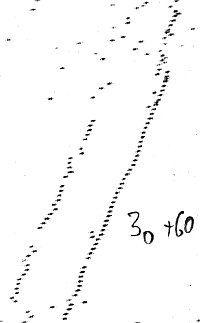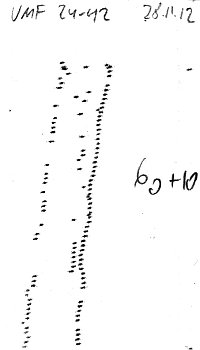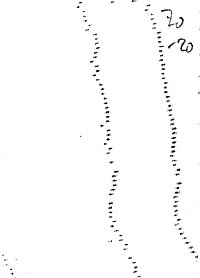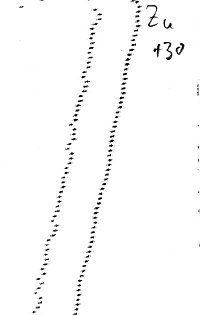 horizontal positions
dial up
+60 s/d
dial down
+180 s/d
vertical positions
crown right (12 up)
+10 s/d
crown up (3 up)
-130 s/d
crown left (6 up)
-20 s/d
crown down (9 up)
+30 s/d
Timegrapher output
Technical data
Manufacturer:
UMF
Caliber:
24-42
Caliber base:
UMF 24-30
Size:
10 1/2'''
A/h:
18000
Number of jewels:
2
Escapement:
Pin lever
Balance types:
Nickel anular balance

Shock protection(s):
none

Balance bearing / direction hairspring:
Clockwise
Moveable stud:
no
Adjust mechanism:
Hairspring key
Construction:

lever
escape wheel, seconds wheel, third wheel, center minute wheel, mainspring barrel
center second pinion

Construction type:
pillar construction
Winding mechanism:
rocking bar winding system
Features:

SCI (indirect center seconds)

Production period:
1967 - ~1969
References:
Flume: K3 66

Usage gallery
Links