Description
If you look into the Flume Werksucher K2 or K3 in the image parts, you immedeatly recognize the ETA 2442 on the first two pages, since it not only the smallest ETA movement, but also one of the tiniest movements ever made at all.
With a diameter of only 13.2mm (6 lignes), but a fast beating of 21600 A/h, it probably marks the climax of the development of micro-sized wristwatch movements in the 50ies and 60ties.
Even a 1ct coin is larger than this micromechanical miracle!
The ETA 2442 was a very modern construction with an indirectly driven minute hand, which allowed a larger mainspring barrel and a larger balance, thus leading to longer running time and better precision, which you can see on the timegrapher print on the bottom of this page.
Of course, all trains are beared in jewels, except the third wheel, which drives the minute wheel on the dial side. The seventeenth jewel is the cap jewel of the escapement wheel.
The large Glucydur balance is golden-toned, the hairspring is connected to a moveable stud - in the early 60ies, when this movement was released, this was still something extraordinary.
On the dial side, you will of course find a yoke winding system; the rest of the construction is similar to that of other contemporary ETA movement, only the dimensions are much smaller.
Timegrapher result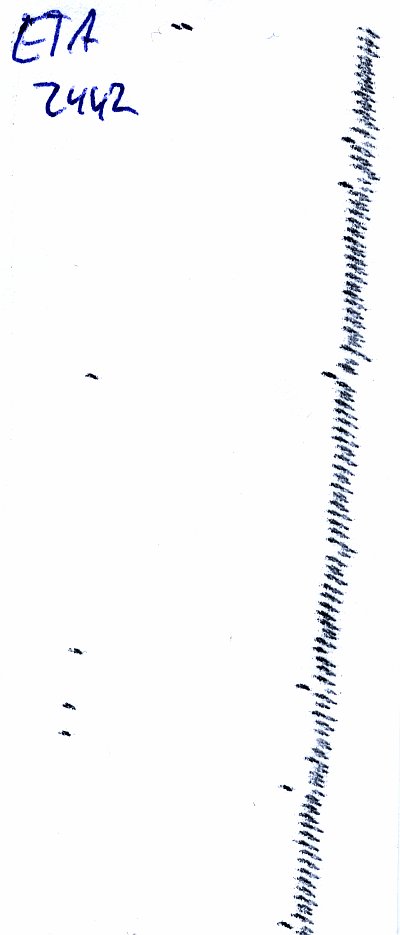 Technical data
Manufacturer:
ETA
Caliber:
2442
Size:
6''' (measured: 13,7mm)
A/h:
21600
Number of jewels:
17
Escapement:
Pallet lever
Balance types:
Glucydur anular balance

Shock protection(s):
Incabloc

Balance bearing / direction hairspring:
Clockwise
Moveable stud:
yes
Adjust mechanism:
Hairspring key
Construction:

lever
escape wheel, seconds wheel, third wheel, large driving wheel
mainspring barrel

Winding mechanism:
yoke winding system
Setting lever spring:
1 hole(s)
References:
Flume: K2 2

Mentioning in literature (years):
1963 - 1971
Usage gallery
Links
This movement was kindly donated by
Harald Hoeber
. Thank you very much!