Description
The FHF 190 is an unusually constructed ladies' watch form movement, produced between 1942 and 1954 more than 1.9 million times.
For having the possibility of using large gears, it uses a three-storied construction, on which the pallet lever (with transparent pallet stones) is located on the first layer, the minute- and fourth wheel on the second and the third wheel on the third layer. You can see this pretty well at position "3": On the bottom the silver colored escapement wheel, aboce the fourth wheel and on top the very large third wheel.
The regulation organ is made in a conventional way: The screw balance is of a normal size and not shock protected. It uses a flat hairspring, which is fix connected to the balance cock and can be regulated in its effective length with a long regulator arm.
For a nicer appearance, this movement got a stripe polishing.
On this movement, we have speciality, that the main bridge does not only contain the bearings for fourth, third and minute wheel (the first two as jeweled bearings), but also the complete winding mechanism, including mainspring barrel bearing and safety catch. For a service, this is a bit unhandy.
On the side view, you see the escapement wheel cock. It is requied, since above, the third wheel is located. The bearing of the fourth wheel can be seen at the left of the macro photo.
On the dial side, you can spot the age of this movement, which was launched in the late 1940ies: At the bottom, there's an engraved minute dial, which helps the watchmaker on regulating the device. And, as sometimes seen on old movement, the escapement pallets are made of transparent material (but of which one exactly?) - at position "10", you can spot them.
Of course, this rather high quality form movement uses a yoke winding system.
Timegrapher result
The specimen tested here is about 65 years old; when it was serviced last is not determinable, but since it came into the test lab without case, it can be assumed, that it is not in an optimal state. Because of that, the test results have to be taken with a grain of salt and are certainly not representative for the high quality FHF 190 series. On the timegrapher, the tested specimen showed very different results: While on the horizontal positions, it ran very well (in position "dial down" with no deviation at all, even in "double precision" mode of the timegrapher), it performed very poor on the vertical positions with deviations of up to several minutes per day. This is a clear indication, that either the balance staff is bent or worn out, or that this specimen almost "cries" for a service. The wave patters at "12 up" and "9 up" confirm this, but they can also indicate, that the depthing of the escapement is not enough.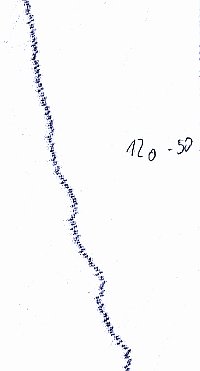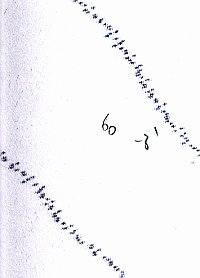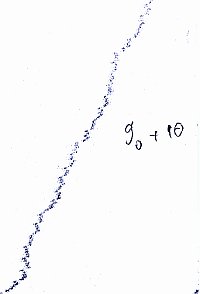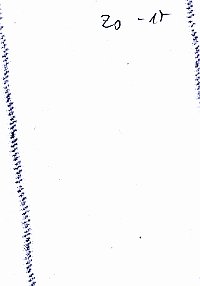 Technical data
Manufacturer:
FHF
Caliber:
190
Size:
5 1/4''' (measured: 12,4 x 19,15mm)
A/h:
18000
Number of jewels:
15
Escapement:
Pallet lever
Balance types:
Nickel screw balance

Shock protection(s):
none

Balance bearing / direction hairspring:
Counterclockwise
Moveable stud:
no
Adjust mechanism:
Long regulator arm
Construction:

lever
escape wheel
seconds wheel, third wheel, center minute wheel, mainspring barrel

Construction type:
solid construction
Winding mechanism:
yoke winding system
Setting lever spring:
2 hole(s)
Production period:
1942 - 1954
References:
Flume: 1949 19

Production years:
1942-1954
Production figures:
1.921.144
Usage gallery
Links